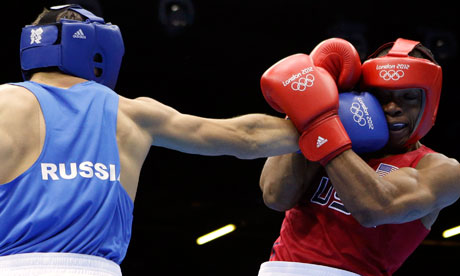 From the
Examiner
"The five best prizefighters to win Olympic gold since 1984," by Colin Linneweber,on 8 August 2012 --For the first time since the sport was introduced at the 1904 Summer Olympics in St. Louis, Missouri, the U.S. Boxing Team failed to win a single medal when welterweight Errol Spence lost to Russian Andrey Zamkovoy last night at the ExCeL Exhibition Centre in London, England.
History has proven that amateur medalists somewhat rarely mature into tremendous professionals in the squared circle.
In tribute to Olympic stars that did flourish on the next level, below are the five gold medalists since 1984 that experienced the most success as prizefighters.
1) Lennox Lewis (41-2-1, 32 wins by KO) – Fighting for Canada, Lewis captured gold as a super heavyweight by earning a second round TKO over Riddick Bowe at the 1988 games in Seoul, South Korea.
Lewis turned professional approximately nine months later and knocked a tomato can named Al Malcolm onto Queer Street in the second round.
Ironically, Lewis became the WBC heavyweight champion by default in 1993 after Bowe cowered and refused to again scrap the mammoth Brit.
Bowe's pink decision made Lewis the first and only world heavyweight titleholder to hail from Britain in the 20th century.
In September 1994 in London, Lewis lost to a journeyman crackhead named Oliver McCall via TKO in the second round.
Similarly, in April 2001 in South Africa, Lewis was defeated by Baltimore bruiser Hasim Rahman via knockout in the fifth round.
The only two losses that Lewis suffered in his professional career stemmed from two flailing bombs that miraculously landed directly on the Brit's kisser.
Lewis avenged both of his defeats and retired as a champion in 2003.
The United Kingdom's resident badass is one of four boxers in history to have won the heavyweight championship on three separate occasions.
"Lewis wasn't my favorite," said Brad Sherwood, 30, a resident of South Boston who is employed as a personal trainer at Gold's Gym in Medford. "He was pretty much boring. But, he beat everyone that beat him and he left the sport on top. That's all you need to know."
2) "Dr. Steelhammer" Wladimir Klitschko (58-3, 51 KOs) – Klitschko earned the super-heavyweight gold medal when he outclassed Tongan Paea Wolfgramm at the 1996 Summer Olympics in Atlanta, Georgia.
A mere three months after vacating "Hotlanta" victorious, Klitschko made a successful pro debut with a thunderous first round knockout over bush league scrapper Fabian Meza.
The Ring, IBF, IBO and WBO heavyweight king, who has triumphed in 15 consecutive bouts since being TKO'd by Lamon Brewster in April 2004, hasn't been overcome since the end of George W. Bush's first term in office and has now managed to defend his belts on 13 straight occasions.
At 36, Klitschko has improved with age and could threaten Joe Louis' longstanding record of safeguarding his crowns against 25 straight challenges.
Mike Cappiello, who captured the New England super featherweight championship in 1990 and finished his professional career with an impressive record of 33-6, recognizes the achievements of the massive, and indomitable, Ukrainian.
However, Cappiello contends Klitschko is ready to again be floored for the count.
"Wladimir Klitschko can be beat," said Cappiello, who once fought for the flyweight title. "He is always fighting on the outside because he knows he doesn't have a solid chin."
The 6-foot-6, 243 pound Herculean force may not "have a solid chin."
Still, Wladimir Klitschko is undoubtedly one of the greatest heavyweights to ever grace the sport.
3) "Sweet Pea" Pernell Whitaker (40-4-1-1, 17 KOs) – Whitaker waltzed to a gold medal at the 1984 Summer Olympics in the Memorial Sports Arena in Los Angeles, California.
Despite possessing feathery fists, the International Boxing Hall of Famer was a defensive wizard who frequently embarrassed his opponents.
Ring Magazine named Whitaker its 1989 "Fighter of the Year" and in 2002 the famed publication ranked the brilliant southpaw number 10 on its list of 'The 100 Greatest Fighters of the Last 80 Years."
Pernell Whitaker validated the adage that a good defense will often trump a good offense.
4) Oscar De La Hoya (39-6, 30 KOs) - Fulfilling his mother's dying wish, De La Hoya dominated Marco Rudolph of Germany to become the only U.S. boxer to win a gold medal at the 1992 Summer Olympics in Barcelona, Spain.
De La Hoya, who defeated 17 world champs and captured 10 crowns in six different weight classes, was one of the elite pound-for-pound pugilists from 1994 to 2002.
"The Golden Boy," The Ring magazine's "Fighter of the Year" in 1995, hung up his gloves after being battered by Manny Pacquiao in an eight round TKO loss in December 2008.
Nevertheless, Oscar De La Hoya is quite simply a boxing legend.
5) Andre "Son of God" Ward (25-0, 13 KOs) - The Ring, WBA, WBC and super middleweight champ became the first American to grasp boxing gold in eight years as a light heavyweight at the 2004 Summer Olympics in Athens, Greece.
The 28-year-old Ward, voted in the wintertime as the 2011 "Fighter of the Year" by the Boxing Writers Association of America (BWAA), has unbelievably not vacated a ring on the losing end of a bout since he was a 12-year-old amateur.
"The Son of God," currently rated by Ring Magazine as the fifth pound-for-pound boxer in the world, is now in position to become a national superstar and household name like fellow American gold medalists Muhammad Ali, "Sugar" Ray Leonard and De La Hoya.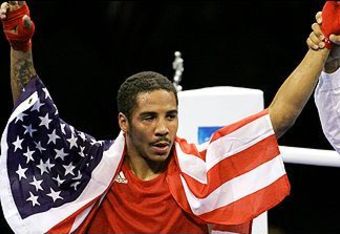 Roger "Pit" Perron is a venerable boxing trainer from Brockton (Mass.) who now works with Mike and Rich Cappiello at their gym, Cappiello Brothers Boxing and Training.
Perron praised Ward and predicts "The Son of God" will conquer all challengers for the foreseeable future.
"Ward clearly sticks out in the division," said Perron, 75, who worked with Marvelous Marvin Hagler in the 1980s. "He had just a great performance his last time out. There's no telling when, or if, he'll next lose." (source:
The Examiner
)